WISH Presents :: CAR-T Therapy Lunch-and-Learn
01/24/2023
11:30 a.m. - 12:30 p.m.
The Henry
4455 E Camelback Rd
Phoenix, AZ 85018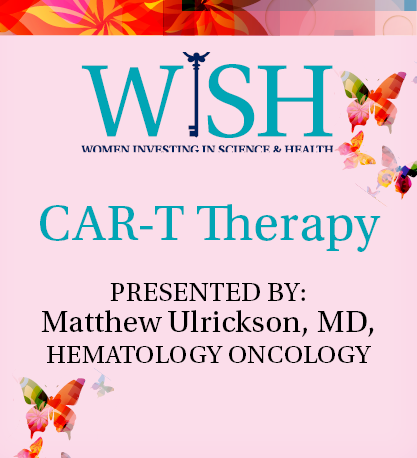 Join WISH for a presentation on how CAR-T therapy, a form of stem cell therapy, is used to treat lymphoma, featuring Matthew Ulrickson, MD, Hematology Oncology. CAR T-cell therapy is a treatment in which a patient's T cells (a type of immune system cell), taken from a patient's blood, are changed in the laboratory so they will attack cancer cells.
Date: Tuesday, Jan. 24 from 11:30 a.m. - 12:30 p.m.
Location: The Henry | 4455 E. Camelback Rd
Tickets: $50 per person with proceeds benefitting WISH
Each WISH program is part of a series that addresses our organization's mission to raise awareness of women's and family health issues through education and philanthropic support.
Questions? Contact Christine Stoffle at Christine.Stoffle@bannerhealth.com