Charitable Gift Annuities: Generosity meets security
12/01/2020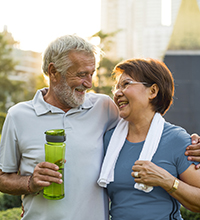 Create a charitable gift annuity to
support the Banner Health
program, hospital, or area of care
that matters most to you, and you
can feel secure knowing you will
receive stable payments for as
long as you live.


There's a way for you to support your favorite charities such as the Banner Health Foundation and Banner Alzheimer's Foundation, and feel confident you have dependable income in your retirement years. You can do this with a charitable gift annuity.
The concept is simple: You make a donation using cash, marketable securities or other assets, and we, in turn, pay you a fixed amount for life. With this type of gift, you can feel secure knowing you will receive stable payments for as long as you live.
And now, if you make your gift by December 31, the gift annuity rates will be an estimated 0.3 to 0.5 percent higher than they will be beginning January 1.
An example of how you may benefit
Under the current rate schedule, Mary, 79, transfers $25,000 in exchange for a charitable gift annuity. She will receive annual payments of $1,775, a rate of 7.1 percent. If Mary waits to make her gift on or after the new rate schedule is in place on January 1, the same gift amount will provide $1,650 in annual payments, reflecting a 6.6 percent rate.
In addition to the opportunity to increase your retirement income as you help shape our future, gift annuities offer you numerous tax benefits, including:
A partial income tax charitable deduction now for your gift when you itemize
Part of each payment is income tax-free throughout your estimated life expectancy
Capital gains tax savings on appreciated property you donate
Contact Christy Atler, Vice President of Development, at 480.710.3059 or christy.atler@bannerhealth.com to discuss how to take advantage of these benefits by December 31.