Philanthropy Helps Banner Concussion Center Level the Playing Field for Athletes
05/25/2018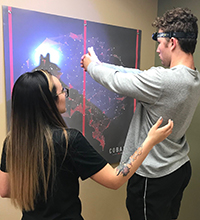 Among the components of high school
football player Jonah Brownell's
baseline testing was the balance test.
If he experiences a head injury in the
future, the baseline information can
help guide the treatment he receives.


Right in our own backyard, with its entire start-up funded through philanthropy, the Banner Concussion Center is a resource for the community.
Imagine bumping your head during a car accident or while playing your favorite sport. Dizziness, headaches, nausea, sleep, and concentration issues follow. Driving to work or attending school becomes problematic. The cascade of concussion symptoms completely interferes with your life. Having a map of how the brain functions in a normal state for athletes is critical, especially if there's a possibility for concussion in the future.
"Philanthropy enables us to offer low-cost or free baseline testing like BrainStamp," said Concussion Center's Senior Clinical Manager, Shelly Massingale. "And, nobody else in the Valley does testing to the level we offer."
Balance, neuro-cognitive assessment, athletic vision testing, and fine motor skill evaluations are all part of the comprehensive battery of objective norms included in BrainStamp.
From young athletes in underserved communities to the NFL, the Concussion Center offers the same quality of testing and return-to-play care. With a deep bench of medical experts, including physicians, neuropsychologists, vision and balance experts, optometrists and athletic trainers, these services are not just for athletes—they're for all of us.
"Anybody in your life could hit their head," Massingale explained. "Often, it feels as if there's nowhere to go when concussion symptoms begin taking over your life. The Banner Concussion Center is here for everybody in the community, with a mission to keep our kids in the sports they love and our family members healthy and functioning."
Want to know more about BrainStamp?
You can download the BrainStamp app for Apple devices or an Android device. BrainStamp Game Time is an app that helps athletic trainers, coaches, and parents screen athletes suspected to have sustained a concussion and respond quickly and appropriately to this potentially serious medical situation.
The app is not intended to provide medical care but an initial screening for suspected injury. Assessment information recorded by the app can be emailed to physicians or other medical professionals.
Call 602.839.7285 to request an appointment with the Banner Concussion Center.