FLOURISH program helps vulnerable older adults
02/01/2023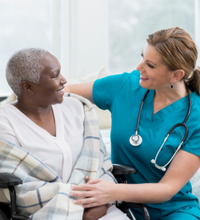 A grant to the Banner Health Foundation from the Maricopa County Department of Public Health is funding a new benefits enrollment initiative for low-income older adults called FLOURISH, with Banner Olive Branch Senior Center as its hub.
Launched in June 2022, the program trains Banner Health frontline personnel, including social workers, home health aides, and health navigators, to educate, screen for eligibility, and enroll vulnerable low-income seniors for an array of benefits, including Supplementary Security Income, Social Security Disability Insurance, Supplemental Nutrition Assistance Program (SNAP), Low Income Home Energy Assistance Program (LHEAP), Medicare Savings Programs, and more.
Historically, Banner Olive Branch staff has assisted older adults who physically come into the Senior Center with benefits enrollment. Thanks to this additional funding, personnel who interact with older adults at Banner Health medical facilities, in their homes, or via phone during insurance plan enrollment, will now also be trained to provide the same assistance—extending the reach of the program and helping connect more seniors with available benefits.
The FLOURISH Project serves seniors aged 60 and older from all backgrounds who live at or below 250% of the federal poverty level. By addressing food insecurity at various points of care, Banner is creating conditions for better health outcomes and management of diet-related chronic medical conditions like diabetes, heart disease, hypertension, high cholesterol, and mental illness—all associated and linked to obesity.
Older adults on fixed incomes often find themselves in a cycle of higher medical costs that result in less money available to purchase healthy foods, which then leads to poorer health and higher medical costs. Some 10% of adults aged 60 or older in the United States are food insecure, according to Feeding America. Additionally, the USDA reported in 2020 that only 48% of adults aged 60 or older who were eligible for Supplemental Nutrition Assistance Program (SNAP) benefits were enrolled and receiving benefits.
"By training frontline staff to introduce available benefits to seniors and refer them for eligibility screening appointments, Banner is proactively engaging them in a conversation in a convenient and welcoming atmosphere. It also eliminates the need for seniors to travel and/or wait in lines or on the phone for assistance," says Banner Olive Branch Senior Center Director, Dawn Gielau. "The FLOURISH Program supports our vision to improve the health and wellness of older adults, which allow them to remain independent and in their own home and communities, and that's a win for everyone."
Since 1988, Banner Olive Branch Senior Center has been providing health care services and more to seniors in the Northwest Valley communities of Sun City, Sun City West, Surprise, Youngtown, and El Mirage. Beginning with a food program in a local church and one loaned vehicle, Banner Olive Branch Senior Center now offers 25 programs and services and has a 16-vehicle fleet. Each year, the center serves approximately 3,300 people, many of whom take advantage of its no-cost or low-cost food programs. These individuals, who combined make more than 36,600 visits annually, have an average age of 76. Their pioneering model of centralized senior services in a non-clinical setting has earned Olive Branch statewide recognition and even received mention in national publications, such as Time magazine.