Itzel, a small but mighty heart warrior
02/02/2023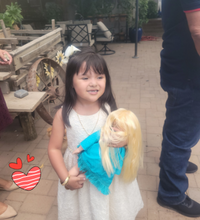 Meet 4-year-old Itzel Cardenas Romero, a heart warrior who was born with a congenital heart defect and has courageously undergone two open-heart surgeries, along with other medical procedures at Banner Children's at Desert. She's a happy girl who loves to play with her two older brothers and cousins, and enjoys dancing, being pulled in a wagon, and being pushed on her outside swing.
Congenital heart defects are the most common type of birth defect. They can affect the structure of a baby's heart and how it works, but thanks to advancements in care, children are living longer, healthier lives than ever before. Many now are living into adulthood.
Thankfully, today, Itzel is progressing well, and exceeding all recovery expectations, and is thriving every day! "We are eternally grateful to Dr. Prasad Ravi and Dr. Heidi Cox for never leaving us, offering their expertise, support and encouragement," says her mom, Alma.
As we celebrate American Heart Month, and patients like Itzel, we also celebrate the important milestones in pediatric heart care. The heart program is one of a variety of patient care programs at Banner Children's at Desert supported by philanthropic investment. To learn more, visit give.bannerhealth.com/bannerchildrens.