Foundation News
08/01/2018
Since opening last November at Banner MD Anderson Cancer Center, the T.W. Lewis Melanoma Center of Excellence is well on its way to becoming the leading center for Melanoma diagnosis, treatment, and research in the Southwest. Support from donors and a matching gift from the T.W. Lewis Foundation generated $3.5 million to make the Center a reality, and far ahead of schedule.
Read More
---
07/31/2018
Legacy gifts are a powerful way for individuals and families to invest in the future of Arizona health care through Banner Health. A gift from your estate promised today—typically, at no cost to you—and realized after your lifetime can make a meaningful impact on programs serving future generations.
Read More
---
06/08/2018
You can help build a permanent endowment to support Music Therapy for Banner Hospice patients with a gift that is matched 50 cents on the dollar by Banner Health's President & CEO, Peter S. Fine, and his wife, Rebecca Ailes-Fine.
Read More
---
05/30/2018
With exciting news about increased charitable gift annuity rates, effective July 1, 2018, this may be a good time to boost your retirement income, while supporting Banner Health Foundation or Banner Alzheimer's Foundation with a charitable gift annuity. Make a donation using cash, marketable securities, or other assets; receive stable payments from the Foundation for as long as you live; and take advantage of the highest gift annuity rates in over six years.
Read More
---
05/25/2018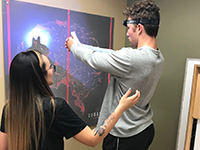 Right in our own backyard, with its entire start-up funded through philanthropy, the Banner Concussion Center is a resource for the community. From young athletes in underserved communities to the NFL, the Concussion Center offers the same quality of testing and return-to-play care.
Read More
---