American Cancer Society gift supports Banner MD Anderson patients
06/01/2023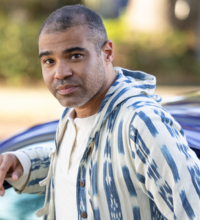 For patients with cancer, transportation
and lodging challenges can create
barriers to receiving the treatment
they need.

The American Cancer Society recently awarded a $20,000 transportation and $59,447 lodging grant to the Banner Health Foundation to alleviate the financial burden of transportation and lodging costs for patients being treated at Banner MD Anderson Cancer Center. The grant is one of 600 nationwide grants totaling over $10.8 million awarded by the American Cancer Society in 2022. Based on assistance provided through previous grant funding, these grants will provide more than 328,000 rides to treatment for nearly 25,000 people and over 9,000 nights of free lodging.
For patients with cancer, transportation and lodging challenges can create barriers to receiving the treatment they need. Many people need daily or weekly treatment, often for several months. Family and friends may help, but they may not always have the time or resources to provide every ride, and when the most effective treatment requires traveling away from home, lodging is also needed.
"This type of assistance is so valuable to our patients, as these costs can be significant and are not covered by insurance," says Michael Herring, CEO for Banner MD Anderson. "We are grateful to the American Cancer Society for recognizing this need and partnering with us to support our patients during a challenging time."
In 2023, more than 1.9 million new cancer cases will be diagnosed in the United States. In a large national study published in the Journal of the National Cancer Institute (JNCI) in April, American Cancer Society researchers found U.S. cancer survivors who reported medical financial hardship had a higher mortality risk.
"The financial burden of cancer treatment directly contributes to disparities in cancer outcomes," said Ashley DeGooyer of the American Cancer Society. "We're working to increase access and remove barriers to timely, high-quality cancer care. Providing these grants directly to local health systems and partners allows us to deliver assistance directly to patients when and where it's need most."
From 1991 to 2019, there has been a 32% decline in cancer mortality. The American Cancer Society can directly attribute declines in the overall cancer death rate to investment of funds and resources in the areas of advocacy, discovery, and direct patient support. All people should have a fair and just opportunity to live a longer, healthier life free from cancer regardless of how much money they make, skin color, sexual orientation, gender identity, disability status or where they live.