Banner Estrella and ASU partner to introduce students to health care careers
09/05/2023

The collaboration between Banner
Estrella and ASU highlights a shared
generation of health care leaders.

Banner Estrella Medical Center in west Phoenix and Arizona State University partnered for the first time to host the TRIO Summit, a program aiming to assist first-generation students, low-income students, or students living with disabilities to pursue a career in the medical field. Banner Estrella offered an exclusive hospital tour and guest speakers from various roles hoping to spread their passion for health care among the young and aspiring participants.
Students who attended the TRIO Summit gained a deeper understanding of the commitment, challenges and possibilities associated with various medical and non-medical professions needed at a hospital.
The collaboration between Banner Estrella and ASU highlights a shared commitment to fostering the next generation of health care leaders. By investing in young minds and encouraging their interest in the medical field, both organizations recognize the importance of preparing future professionals for the rapidly evolving healthcare industry.
This is just one of many proactive workforce development efforts by Banner Health to reach and serve as many diverse populations as possible, funded entirely or in part through the generosity of donors. From military veterans to nurses seeking additional training, Banner has created new programs and scholarship opportunities, while maintaining others with a long history.
In the East Valley, Banner Ironwood Medical Center hosted its first Camp Scrubs, a week-long, immersive, hospital-based experience for high school students to learn about the many potential career options in health care. It is one of many programs aimed at building a pipeline of talent to fill vitally important roles at the bedside and in hospital operations. In addition to listening to guest speakers and shadowing medical staff, the students also had a chance to participate in hands-on activities. This included learning the proper way to put on Personal Protective Equipment, participating in an escape room where they learned about patient safety, and earning their CPR certification.
In 2015, Banner Health established the Veteran Fellowship Program, a one-of-a-kind veteran recruitment program dedicated to providing hands-on experience and professional training to active duty military members who are within six months of separation from the military.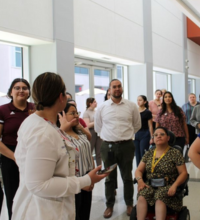 Project SEARCH is an internationally recognized, evidence-based employment training program whose primary objective is to secure competitive employment for people with cognitive and developmental disabilities. Hosted at 617 sites across 48 states and 10 countries, this 10-month program provides individualized, on-the-job development for students supplemented by daily classroom instruction and job coaching. Banner Health began its partnership with Project SEARCH in 2020 at Banner Gateway Medical Center in Gilbert. As the largest nonprofit health system in Arizona, Banner aims to welcome and support individuals with developmental disabilities in employment roles that match their talents, enabling them to contribute to serving Banner's patients and grow professionally through paid employment. Banner Health is prepared to support the training of these participants and hopes to extend employment upon the completion of the program.
And, for more than 30 years, the Banner Health Foundation has proudly offered the Anthony J. Jannetti Nursing Scholarship to registered nurses pursuing an advanced nursing career in Arizona. This scholarship annually provides a one-time award of $2,000 each to eight recipients and an individual Excellence Award of $3,000 to one recipient.
Throughout the Banner Health system, equality, diversity, inclusion and belonging are valued and celebrated. Banner Health's Diversity and Inclusion Council strives to increase equity and continually strengthen our work to empower all of our team members and the people we serve.