Banner Sports Medicine Scottsdale Now Open
05/18/2023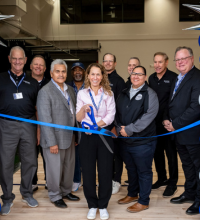 Lisa Mukavitz, Vice President of
Service Lines for Banner Health,
cuts the ceremonial ribbon to
officially open Banner Sports
Medicine Scottsdale. She is joined
by President Martin Harvier and
member Mikah Carlos of the Salt River
Pima-Maricopa Indian Community, and
Banner leaders from left to right:
CEO Peter S. Fine, Chief Strategy &
Growth Officer Scott Nordlund,
Board Chairman Quentin P. Smith Jr.,
Chief of Sports Medicine Dr. Evan Lederman,
Orthopedic Physician Dr. Steven Erickson,
Orthopedic Surgeon Dr. Tom Carter, and
Banner – University Medical Center CEO Dan Post.



May 10 marked the grand opening of Banner Sports Medicine Scottsdale located at Riverwalk at Talking Stick on the Salt River Pima-Maricopa Indian Community east of Scottsdale. A first in Arizona, this is a comprehensive, one-stop destination for sports medicine services and specialists, with renowned sports medicine providers and leaders.
Services offered on-site include orthopedic and primary care sports medicine diagnosis, care and treatment; medical imaging; outpatient surgery; physical and occupational therapy; and complete concussion care in the Lentsch Family Concussion Center, made possible by a generous gift from the Lentsch family.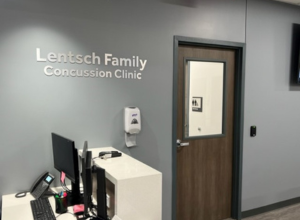 Also located within the Banner Sports Medicine Scottsdale facility, the Banner Sports Medicine High Performance Center is a state-of-the-art performance analytics and training complex. The center is a specialized athletic facility that blends the science of sports with the expertise of sports performance practitioners to help athletes excel. Services include injury risk assessment, prevention, and recovery; performance assessment and training, strength and conditioning, sports nutrition, and sports psychology.
The three-story, 80,000 square-foot facility includes high-tech equipment, including the latest offerings in 3D biomechanics with integrated motion capture and force plate technology to measure velocities, stance symmetry, landing mechanics and more. The center also includes other highly sophisticated universal and sport-specific equipment and resources – all of which provide detailed insight into the personal mechanics of athletes across virtually all court, field, and track sports.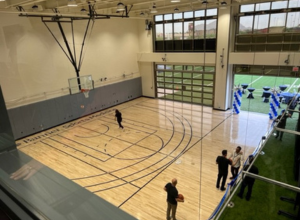 The facility is for all athletic levels and is in strategic alignment with Banner's partnership with prominent local sports teams, including the Arizona Diamondbacks, Phoenix Suns, Phoenix Mercury, and the University of Arizona.
Charitable support allows us to extend the reach of sports medicine services into underserved communities to ensure every youth athlete has the opportunity to excel. Commemorative naming opportunities are available throughout the Center to recognize significant gifts. Please be in touch with the Banner Health Foundation team to explore giving options.