Bombas and Banner Health partner to provide socks to patients in need
08/01/2023

Banner Health Behavioral CEO Bill
Southwick and Nursing Director
Neil Hauring showing off some of
the Bombas socks donated.

With socks being the most requested garment at homeless shelters, apparel maker Bombas donates so many pairs of new, premium socks that the brand is now known as much for their "buy one, give one" practice as they are for their products: high-quality socks, underwear, and t-shirts. It's a simple philosophy: For every item purchased, a clothing item is donated by Bombas to a homeless shelter or homelessness-related charity.
Now, Bombas has donated nearly 21,000 pairs of socks to Banner Health medical centers, Banner Olive Branch Senior Center, and Banner Behavioral Health Hospital, with each receiving between 3,000-5,000 pairs to provide to patients in need. Medical centers are often the first entry point for vulnerable individuals seeking care and support, including unhoused individuals, victims of abuse, low-income seniors with medical needs, and teens and adults experiencing a mental health crisis. Due to their circumstances, many are lacking basic but essential items like socks. Socks tend to be the least-donated clothing item, yet they're vital for good health. They contribute to better mobility and reduce the risk of cellulitis, impetigo, fungal infection, trench foot, and skin breakdown.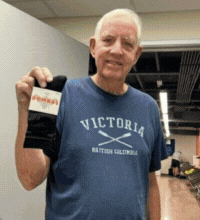 "I can't believe they donated the
socks! Wow, their advertisements
are true," says Mike Johnson, a guest
of Banner Olive Branch Senior Center.

"We're proud to have Banner Health as a Bombas Giving Partner and support the work that they do for so many, meeting individuals in need of extra support, across their Arizona hospital sites, with care and compassion," says Kelly Cobb, Vice President of Giving at Bombas.
"Socks are a must-have for our seniors and always at the top of their holiday wish list," explains Banner Olive Branch Senior Center Director Dawn Gielau. "Socks are something they typically do not spend their limited dollars on and just continue to make do without. I'm happy to report that all donated socks have been distributed to their new homes – from the smiles on our seniors' faces, you could see how much they are appreciated."
Since 2019, Bombas has donated more than 100 million items to more than 3,500 community organizations and Giving Partners like Banner Health.