Diamond Children's Play Zone comes to life for young Tucson patients
11/01/2023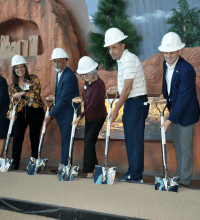 Diamond Children's Medical Center in Tucson officially broke ground Oct. 27 on construction of the Play Zone, a vibrant 7,200-square-foot space for hospitalized children to engage in recreation and therapeutic play as they heal located in the former lobby of the hospital.
Thanks to charitable gifts from more than 200 generous donors and companies, we have raised $2.9 million toward our $3 million fundraising goal to bring the Play Zone to life. The fundraising effort is being led by Tucson business owner and Banner Health Foundation Board member Jeremy Sharpe.
"We are so excited to see construction begin on the Play Zone," Jeremy says. "This much needed space will provide children an oasis to heal, grow, play and learn. Parents of two young children ourselves, my wife Lexy and I are thrilled to support this effort and to see the Play Zone impact generations to come."
Designed by Shepley Bulfinch and built by DPR Construction, the Play Zone will open to patients and their families in fall 2024, providing a space for Child Life Specialists to serve up to 40% more patients, building coping skills, addressing their psychosocial well-being, preparing them for procedures and treatments, and giving them a place to relax, rest, read, and have fun away from their hospital room and treatment spaces. Child Life Specialists are specially trained to work with young patients, siblings, and parents with the goal of reducing trauma and recovery time and empowering them along their health journey.
Adjacent to the Play Zone will be the future Ronald McDonald Sibling Center. Ronald McDonald House Charities is funding construction and staffing for this special space designed to serve the young siblings of our patients so they can play, learn and be supported while their loved one is being cared for in the hospital.
"The Play Zone will be one of the largest therapeutic play spaces in the nation, with 10 unique spaces for patients and siblings to visit and explore, encouraging walking and movement, getting out of the hospital room, and providing a distraction from the day to day," says Hadley Trull, associate director of Child Life at Diamond Children's. "The Play Zone will allow our Child Life team to provide services to 40% more pediatric patients and siblings and enable our patients to have an emotionally safe space to explore big feelings, to connect with other patients and provide a sense of normalcy all while receiving great medical care."
With philanthropic support, the Play Zone will include:
Art studio
Medical play area
Media room
Sensory room for special needs
Area just for toddlers and preschoolers
Virtual reality and video gaming area
Basketball arcade
Hospital school program
STEM activities and a 3D printer
Philanthropic support is still needed to reach our fundraising goal and support completion of the Play Zone. Explore giving options and make a tax-deductible gift by visiting the link below.