Recharge Rooms promote wellness with unique sensory experiences
07/06/2023
Banner Health has opened 10 immersive "Studio Elsewhere Recharge Rooms" for hospital employees, offering private spaces with sensory-driven experiences involving relaxing music and sounds, aromatherapy, and soothing visuals and lighting. Rooms are designed based on neuroscience research to help address trauma, anxiety, stress, and cognitive performance among health care professionals.
The Recharge Rooms completed to-date are funded with generous support from the Arizona Diamondbacks Foundation, Goodmans, and the MillerKnoll Foundation as well as gifts from donors and community partners to the Banner Health Foundation. The COVID-19 pandemic brought public attention to the heroic acts of health care professionals and many people and companies, like these three partners, wanted to show their support by giving back.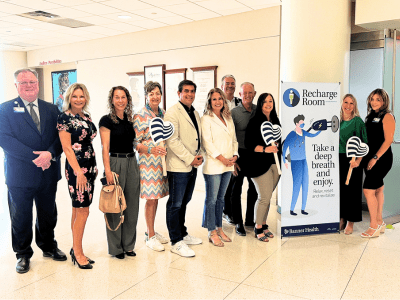 Pictured left to right are: Dan Post, CEO, Banner – University Medical Center; Dr. Rena Szabo, Director, Psychology, Banner MD Anderson Cancer Center; Lisa Mukavitz, VP, Service Lines, Banner Health; Amy Gibbons, Board Member, Arizona Diamondbacks Foundation; Adam Goodman, CEO, Goodmans, Incoming Board Chair, Banner Health Foundation; Amy Nandin, Strategic Account Executive, MillerKnoll; Dr. Scott Sharples, Executive Director, Care Management & Ambulatory CMIO; Marc Ashton, CEO, Foundation for Blind Children, Board Member, Arizona Diamondbacks Foundation; Tara Trzinski, Senior Director, Foundation Operations & Community Giving, Arizona Diamondbacks Foundation; Karna Tate, Account Executive, Goodmans; and Rachel Wilson, Project Manager, Development & Construction, Banner Health.
In June, the Arizona Diamondbacks Foundation, Goodmans, and the MillerKnoll Foundation took part in a dedication ceremony at Banner – University Medical Center Phoenix for the opening of the sixth Recharge Room this group has funded together.
"Thanks to your support, we were able to open our facility's Recharge Room on March 30 and it was an instant success. Each time I visit this center it is occupied by our colleagues," explains Daniel Post, CEO of Banner – University Medical Center Phoenix.
Recharge Rooms are a restorative space for team members to relax, refocus and recharge during their breaks, lunch, and before and after shifts. The private rooms offer immersive and multisensory environments that are customizable and encourage social connection. These healing experiences can be enjoyed individually, but Banner team members are encouraged to experience the Recharge Rooms with colleagues to foster connection.
The rooms are open around the clock and designed and developed by Studio Elsewhere, a minority- and women-owned design and technology studio in New York that creates bio-experiential environments for brain
With the mission to relax, reset and revitalize behind the installation of Recharge Rooms throughout the Banner Health system, rooms are accessible for all team members and staff with privileges at Banner Estrella Medical Center, Banner Desert Medical Center in Mesa, Banner - University Medical Center Tucson, Banner MD Anderson Cancer Center in Gilbert, Banner Behavioral Health Hospital in Scottsdale, Banner Del E. Webb Medical Center in Sun City West, and Banner Boswell Medical Center in Sun City, and North Colorado Medical Center in Greeley, Colorado. Over the next five years, Banner has committed to creating a minimum of 20 Recharge Rooms for Banner team members in acute hospital and ambulatory settings.
"Recharge Rooms directly confront burnout and promote wellness among all of our team members," said Dr. Rena Szabo, a psycho-oncologist with Banner MD Anderson, who helped usher in the Recharge Room effort, along with Dr. Scott Sharples, Banner Health's Associate Chief Medical Informatics Officer. "The physical and emotional well-being of our colleagues are critical to the care, comfort, and outcomes of our patients."
To date, Banner MD Anderson's Recharge Room is the only one of its kind in a cancer center in the country.
"When multiple people share the room, the ability to choose the experience sparks conversation around what different people prefer and why, which helps foster a sense of connection and community between our team members," said Dr. Szabo. "You can change experiences at any point, from waterfalls and forests to lakes and campfires, so everyone can spend time as they prefer within their allotted time in the Recharge Room."
Banner Health workers are experiencing multiple benefits after spending 5 to 10 minutes in a Recharge Room. Banner team members who experience the Recharge Rooms report on surveys an average 58% drop in stress, a 38% increase in positive mood, and a 42% increase in cognitive alertness.
DoTERRA also partnered with Banner to address science, research, and implementation of the use of essential oils in the Recharge Rooms.
To learn more about Banner's Recharge Rooms and see an example of a room, watch a short video below.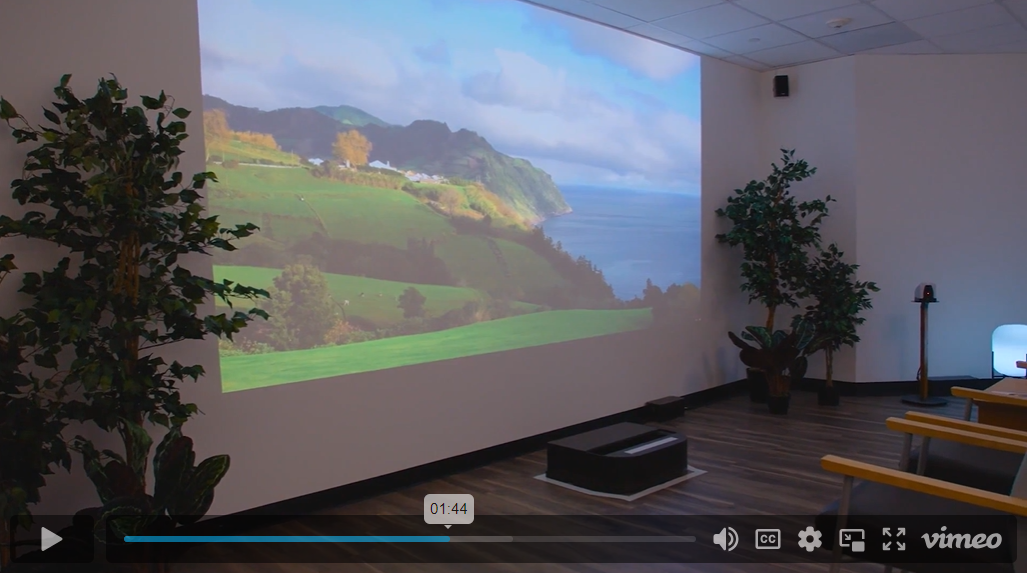 Recharge Rooms are funded through philanthropy. To make a gift of this multi-sensory, immersive and calming experience for our dedicated health care teams, visit the link below.
Choose Recharge Rooms Support Fund from the gift designation menu.