Spotlight: High Performance Center Leaders
05/17/2023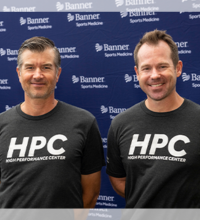 Meet Mike Elliott (pictured right)
and Tyler Wallace, who lead
the High Performance Center.


The High Performance Center is part of Banner Sports Medicine Scottsdale. Here, athletes from youth to professionals can access assessments that provide insight and personalized programming into muscle imbalance, quality of movement, strength, power, and metabolic efficiency. A state-of-the-art sports analytics and training complex, it features roughly 17,000 square feet of indoor space that is complemented by a 29,000-square-foot outdoor training area suited for real-time, true-to-sport assessment and training. The center is Arizona's most comprehensive collection for athletic training, diagnostic and monitoring systems, including the latest in force plate technology and motion capture camera systems capable of serving athletes across virtually all court, field and track sports.
Features include:
Instrumented treadmill with motion capture from Treadmetrix for gait and running analysis.
Baseball analysis with pitching and hitting tunnels equipped with Major League and research-grade force plates and motion capture systems that survey the batter's box and pitching mound to evaluate and measure pitchers, hitters, and the ball.
Dedicated golf swing suite, one of the most advanced in the country, allowing high-fidelity assessments of swing mechanics and forces to evaluate and analyze the body, club and ball
Instrumented basketball court with motion capture and force plates for assessment of all court-sport athletes (basketball players, volleyball players, etc.)
Services available include sports medicine and injury prevention, performance training, skill development, recovery and regeneration, return to performance, and sports nutrition and mental performance.
Meet Mike Elliott and Tyler Wallace, who lead the High Performance Center.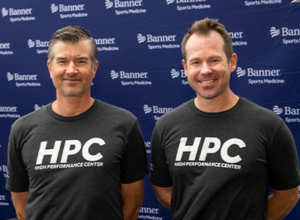 Mike Elliott, Senior Director, High Performance Center
Pictured right, Mike recently joined Banner Health after four seasons as Vice President of Performance Health Care for the NBA's Utah Jazz. In this role, he led all of the Jazz's medical and sports science efforts, including oversight of the team's athletic training and strength-and-conditioning programs, as well as managing the Jazz's Performance Nutrition program, and creating the Jazz's Performance Psychology department. Under his leadership, the Utah Jazz health and performance department was named a co-recipient of the 2019-20 Joe O'Toole/David Craig Athletic Training Staff of the Year Award, which is nominated and voted on by all members of the National Basketball Athletic Trainers Association.
Previously, Elliott spent 14 seasons as a member of the Phoenix Suns' athletic training staff, the last two as Director of Performance. He was responsible for all aspects of player strength and conditioning and worked alongside the Vice President of Athlete Care on daily recognition, care and treatment of team-related medical issues. Elliott was named NBA Strength and Conditioning Coach of the Year by the National Basketball Strength and Conditioning Association (NBSCA) following the 2013-14 season. He also served as the lead strength and conditioning coach for the British Men's National Team, joining their program in 2010 as the team trained for the 2012 Olympic Games in London.
A native of Phoenix, Elliott is a certified athletic trainer (ATC), performance enhancement specialist (PES) and corrective exercise specialist (CES) from the National Academy of Sports Medicine (NASM). He currently sits on the Scientific Advisory Board for NASM. He earned his Master of Science degree in performance enhancement and injury prevention from California University at Pennsylvania in 2005 and did his undergraduate work in exercise science at Arizona State University, where he was in the athletic training program.
Tyler Wallace, Director, High Performance Business Operations
Before joining Banner, Tyler served as Senior Director of Education at Exos, where he led a business unit and team that delivered online and onsite education across the United States and internationally in over 65 countries.
He previously spent eight years with Fusionetics as Chief Product Officer and designed and led the development, release and implementation of a human performance platform that included web and mobile applications designed to support human performance testing, analytics, and the generation of data-driven, personalized injury prevention, performance, and recovery programs. The platform served hundreds of teams in professional and college athletics and was utilized across commercial performance and health care organizations to support injury prevention, performance, and recovery in athletes, clients, and patients. Wallace was with the National Academy of Sports Medicine for 12 years and held roles of Director of Clinical Services, VP of Product Development, and VP of Strategic Development. He was a key contributor to the company's growth and sale as it became the world's largest fitness certification company and expanded and opened new markets in performance, sports medicine, and higher education. Tyler has spent over two decades serving and supporting some of the world's greatest athletes including World Champions, Hall of Famers, All-Stars, a Cy Young winner, and Olympic Medalists across the NBA, NFL, MLB, NCAA, Olympic Athletes, and Women's World Cup Soccer. He has consulted for various teams in the NBA, NFL, MLB and has supported the National Basketball Association with its Pre-Draft Combine and Basketball Without Borders.
Wallace is a graduate of Arizona State University's Exercise Science program and is a Performance Enhancement Specialist (PES) and Corrective Exercise Specialist (CES) from the National Academy of Sports Medicine (NASM).
The High Performance Center is a cash-pay business, as the services offered are non-medical and therefore not covered by insurance. It is open to the public by appointment only and no referral is necessary.