Self-care takes center stage at Women's Wellness Retreat
10/02/2023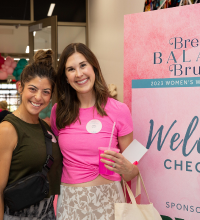 The event featured a variety of
health and wellness activities and
presentations on a range of women's
health topics and concerns.

More than 170 women spent a recent Sunday nurturing themselves—body, mind and spirit—at the second annual "Breathe, Balance, Brunch: Women's Wellness Retreat" presented by WISH (Women Investing in Science & Health) and sponsored by Sonora Quest Laboratories.
The day started with a healthy brunch catered by The Joy Bus. Guests then rotated among 20-minute experiences over the next few hours, including empowerment yoga, guided meditation, sound bowl healing therapy, chair massage, golf simulation, dynamic posturography, exercise rowing instruction, and informative presentations by Banner Health physicians and experts on topics such as the importance of sleep for brain health, how to keep our bones healthy as we age, and the role of new medications like Ozempic in weight loss. Exhibit tables throughout the venue offered information and resources on skin cancer prevention, breast and lung cancer screening, nutrition, fitness, and integrative medicine.
Guests bid in a silent auction on a variety of health and wellness packages while enjoying music, healthy snacks, Suja juice, mimosas, and networking between activities.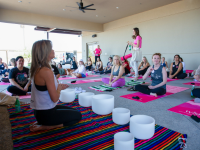 Guests rotated among 20-minute
experiences including empowerment
yoga, guided meditation, sound bowl
healing therapy.

"The WISH retreat is one of my new favorite events," says Amanda Thatcher, a WISH member since 2021. "It was so great to connect with like-minded women and learn more about important issues affecting our health. The Banner Sports Medicine facility is state-of-the-art, and, as a mother of young athletes, I am so happy we have this resource in the Valley."
In partnership with Banner Health, WISH promotes and supports women's and family health by offering evidence-based research, trusted resources, and leading-edge educational opportunities while raising philanthropic funds and awareness for Banner Health programs and services important to women.
"I brought my mom with me and we both left more educated on the relevant topics that were short yet impactful," Natasha Schnaitmann, a one-year member of WISH explains. "The topic of bone health really spoke to me as I did not have much education on it before and I did not realize all the resources in the area that are available. That talk led me to do more research on my own since the statistic given was 1 in 2 women will get osteoporosis. I have quit sparkling water cold turkey since seeing the models of a healthy spine and one with osteoporosis!"
Special thanks to our Presenting Sponsor, Sonora Quest Laboratories, and all of our sponsors and guests for making the day a big success. In addition to attracting new members to WISH, the Women's Wellness Retreat raised funds that the full WISH membership will award to deserving Banner Health programs at the end of the year.
View more photos from the retreat here. To learn more about WISH and/or become a member, visit give.bannerhealth.com/WISH.