Banner MD Anderson breaks ground on eight homes for patients and their families
10/02/2023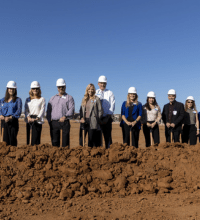 The official groundbreaking of the
eight donated homes took place
at the Banner MD Anderson
Cancer Center.
Banner MD Anderson Cancer Center, Banner Health Foundation and Taylor Morrison, broke ground on eight homes in Gilbert as part of Banner MD Anderson's Home Away from Home program. The cost of a place to stay can be a central concern for patients and their families who travel to Banner MD Anderson for their care, and these homes provide both housing and financial assistance to those patients who might need multiple days or weeks of daily treatment or extended hospitalization.
Built and donated by Taylor Morrison and site work completed by McCarthy Building Companies, the first eight homes are expected to be complete by spring 2024. Each 1,100-sq.-ft., fully-furnished home will feature two bedrooms, two bathrooms, a kitchen, laundry room, gathering room, and a private backyards for patients, their families and care partners to enjoy. Each home is equipped with ADA accessible features, Wi-Fi and keyless door entry technology. Most importantly, all homes are within walking distance of Banner MD Anderson. Upon completion, the community will include 16 homes and provide lodging for up to 160 patients each year.
"Facing a cancer diagnosis and undergoing treatment can be emotionally and physically challenging for the entire family. This program helps take away the stress of housing and commute while they are under our care," said Michael Herring, Chief Executive Officer of Banner Gateway Medical Center and Banner MD Anderson Cancer Center. "We are grateful for Taylor Morrison's shared commitment in ensuring that those who need our care can afford to do so, in homes just steps away from the hospital."
Led by a group of committed community leaders, the Home Away From Home fundraising campaign started in 2019 to financially support patients in need of a place to stay during cancer treatment. The original goal was to assist patients who lacked local housing and who were scheduled for treatment lasting 30 or more days. This included patients undergoing a stem-cell transplant, who need to be within 30 minutes of the facility to qualify for their transplant and for post-operative monitoring, as well as blood cancer patients who receive daily treatment for weeks or months.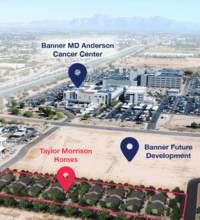 The Home Away from Home program has provided more than 4,000 nights of discounted hotel lodging for 125 qualifying cancer patients and their family members since 2020. Thanks to charitable gifts from individuals, families, businesses and foundations, including Thunderbirds Charities and the American Cancer Society, the program now assists qualifying patients with all types of cancer. And thanks to the generous acts by Taylor Morrison and McCarthy Building Companies, those families can now be the under the same roof, supporting one another during their cancer experience.
"There's no greater gift we can provide than the comfort of home and for patients to be with their loved ones as they undergo the physical and emotional journey of cancer treatment," said Sheryl Palmer, Chairman and Chief Executive Officer of Taylor Morrison. "What we're building is a community of healing, and we hope patients can feel the healing benefits that a sense of community brings when living near other patients going through similar health experiences in beautiful, clean, new homes."
"As community builders, we at McCarthy feel very fortunate to partner with the Banner Health Foundation and Taylor Morrison to help provide Banner MD Anderson patients with a 'Home Away from Home'," said Lee O'Connell, Vice President of Operations for McCarthy. "The Banner Health Foundation's dedication to advancing care, research, health education, patient services and community programs is a perpetual source of inspiration and aligns with McCarthy's mission of being advocates for community betterment."
In 2022, thousands of patients traveled more than 30 miles each way for care at Banner MD Anderson. An estimated 330 of those patients came from outside of Arizona. Even with Banner MD Anderson's discounted hotel rate, a patient who does not have access to local lodging could spend an average of $5,500 on hotel stays.
The Banner Health Foundation continues to raise funds for a dedicated endowment to both sustain the housing community and continue providing financial assistance with hotel stays for qualifying patients. To support the endowment with a tax-deductible gift, visit give.bannerhealth.com/HAFH.
Watch the news segments featured on AZ Family and Fox10 Phoenix: