Foundation News
Check here for announcements, news, and information from Banner Health Foundation.
12/07/2023
Banner Health Foundation gratefully acknowledges Fry's Food Stores for their support of Banner Olive Branch Senior Center, which provides a variety of services to low-income seniors in Sun City and surrounding communities.
Read More
---
12/01/2023
After a personal experience left Mike Kasser and his wife Beth grateful for his health, the generous Tucson couple added the Banner Alzheimer's Institute's Toole Family Memory Center in Tucson to their list of supported charities. A dedication ceremony in November honored their generous gift with the naming of the Kasser Family Physical Therapy Room, where patients can enjoy group fitness and wellness classes such as chair yoga and boxing. Their charitable donation also served to furnish and stock the Wellness Center.
Read More
---
12/01/2023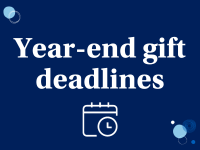 As you make your year-end charitable donations, the Banner Health & Alzheimer's Foundations want to ensure you are aware of these deadlines to ensure your gifts qualify for a charitable income tax deduction in the 2023 tax year.
Read More
---
12/01/2023
Adam Goodman, president of Goodmans, has been elected Chairman of the Board for the Banner Health Foundation, the philanthropic arm of nonprofit Banner Health in Arizona. He succeeds Steve Hilton, executive chairman for Meritage Homes, who served as Chair since 2020.
Read More
---
12/01/2023
The holidays typically bring much-needed toy donations, enough to stock the Toy Closets at all three Banner Children's medical centers in Mesa, Glendale and Tucson for the full year. After a challenging procedure, treatment, or when achieving a milestone, children get a trip to the Toy Closet to choose their own toy to keep—offering them a bright spot while they're in the hospital.
Read More
---