Foundation News
06/08/2018
You can help build a permanent endowment to support Music Therapy for Banner Hospice patients with a gift that is matched 50 cents on the dollar by Banner Health's President & CEO, Peter S. Fine, and his wife, Rebecca Ailes-Fine.
Read More
---
05/30/2018
With exciting news about increased charitable gift annuity rates, effective July 1, 2018, this may be a good time to boost your retirement income, while supporting Banner Health Foundation or Banner Alzheimer's Foundation with a charitable gift annuity. Make a donation using cash, marketable securities, or other assets; receive stable payments from the Foundation for as long as you live; and take advantage of the highest gift annuity rates in over six years.
Read More
---
05/25/2018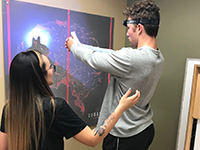 Right in our own backyard, with its entire start-up funded through philanthropy, the Banner Concussion Center is a resource for the community. From young athletes in underserved communities to the NFL, the Concussion Center offers the same quality of testing and return-to-play care.
Read More
---
04/27/2018
Banner Health is committed to expanding Banner Alzheimer's Institute's comprehensive care model to Southern Arizona. Because this expansion relies on significant philanthropic support, Jerre and Mary Joy Stead will match every $5 gift to the BAI Stead Family Matching Challenge with $1, up to $600,000.
Read More
---
04/27/2018
After years of dealing with Cystic Fibrosis, 16-year-old Hailey values her special relationship with a team of professionals who make all the difference in the world. Banner Thunderbird Medical Center's Child Life specialists support Hailey, and her entire family, in ways that are both tangible and intangible.
Read More
---