Foundation News
Check here for announcements, news, and information from Banner Health Foundation.
01/04/2023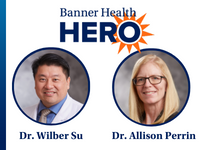 Expressing gratitude is healing, both for the giver and for the recipient. We invite you to share your gratitude in 2023 through our Banner Health Hero program. Your gift honors the health care heroes who made life better during your or a loved one's stay in one of our medical centers and supports patient programs and services. Each Banner Health Hero receives a lapel pin to wear proudly and a certificate commemorating the honor. The Banner Health Hero award is presented by the employee's supervisor during a shift or team meeting, bringing positive attention to your Hero among peers.
Read More
---
01/04/2023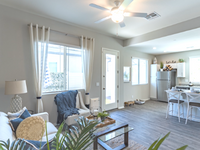 WM Phoenix Open Presenting Sponsor Taylor Morrison recently announced it is building and donating an initial six fully furnished homes to the Banner Health Foundation, with plans to donate 10 more in the coming years. Upon completion, the 16-home community located in Gilbert, Ariz., will support Banner MD Anderson Cancer Center's Home Away from Home program that provides housing assistance to patients who travel great distances for care at Banner MD Anderson.
Read More
---
12/07/2022
Banner Health Foundation gratefully acknowledges NexCore for supporting our youngest patients through Banner's signature fundraising events, the Pulse of the City Soiree and the Banner Children's Open. NexCore's support through these events helps ensure a bright future for Arizona's children facing illness or injury.
Read More
---
12/01/2022
The American Parkinson Disease Association has awarded the Banner Health Foundation a $90,000 grant to support Banner Neuro Wellness, a multi-dimensional program for individuals and families experiencing neurological movement and degenerative disorders such as Parkinson's disease.
Read More
---
12/01/2022
The T.W. Lewis Foundation recently made a $3 million philanthropic gift to expand the T.W. Lewis Melanoma Center of Excellence at Banner MD Anderson Cancer Center. The Melanoma Center was established at Banner MD Anderson's main campus in Gilbert, Ariz., thanks to a $2 million gift from the T.W. Lewis Foundation in 2016 and support from community partners and donors.
Read More
---