Foundation News
Check here for announcements, news, and information from Banner Health Foundation.
03/31/2023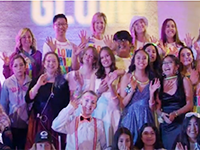 Thanks to a $50,000 grant from the Dunkin' Joy in Childhood Foundation, Diamond Children's Medical Center in Tucson hosted a night to remember in March for teen patients battling cancer and other life-threatening illnesses. Held at the Arizona Stadium with the theme of "Let's Glow," this one-of-a-kind prom featured dazzling neon lights, a silent disco, arcade games, prizes, refreshments, and special guests.
Read More
---
03/31/2023
Through a generous charitable gift from longtime Mesa resident Ruth Nesbitt and her family, the Banner Children's Developmental Pediatrics Clinic is now open in the East Valley. Led by a specially trained developmental pediatrician, the Clinic provides comprehensive assessments and supportive pediatric health care to children with developmental disabilities, learning disabilities, neuro-developmental disorders, autism spectrum disorders and Down Syndrome.
Read More
---
03/31/2023
Led by Tucson business owner and Banner Health Foundation board member Jeremy Sharpe, the campaign to build a Play Zone at Diamond Children's Medical Center in Tucson is now two-thirds of the way to goal. More than 200 generous donors and companies have given a collective $2 million toward the $3 million fundraising goal. Gifts have ranged in size from $5 to $500,000, and every dollar counts.
Read More
---
03/31/2023
Patients who feel grateful for the care they received in a Banner Health medical center show their gratitude through the Banner Health Hero program. With a donation of any size to the Banner Health Foundation, patients can honor any Banner employee who went above and beyond.
Read More
---
03/08/2023
Banner Health Foundation gratefully acknowledges CopperPoint Insurance Companies for its investment in youth behavioral health programs at Banner Behavioral Health Hospital. Their support benefits the Metro Phoenix area's uninsured pediatric population.
Read More
---