Foundation News
Check here for announcements, news, and information from Banner Health Foundation.
10/19/2023
Banner Health Foundation gratefully acknowledges Cannon & Wendt Electric for their longstanding support of Banner Health Foundation's signature events and programs.
Read More
---
10/05/2023
Banner Health Foundation gratefully acknowledges State Farm for their support of Banner Health's Safety Town program, a free mobile educational tool that teaches practical safety and injury prevention to both adult and child audiences. Safety Town is delivered through hands-on experiences with the goal of decreasing severe injuries and injury-related deaths to promote healthy lives.
Read More
---
10/02/2023
Proving that Alzheimer's is a disease that concerns and affects many, nearly 2,000 individuals registered for the Banner Health Foundation's most recent At Home Together virtual presentation, Advances in Alzheimer's Treatments: Updates from the International Stage – while hundreds more will continue to view it online afterward.
Read More
---
10/02/2023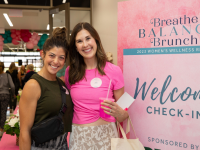 More than 170 women spent a recent Sunday nurturing themselves—body, mind and spirit—at the second annual "Breathe, Balance, Brunch: Women's Wellness Retreat" presented by WISH (Women Investing in Science & Health). Held at the new Banner Sports Medicine Scottsdale, the half-day event featured a variety of health and wellness activities and presentations on a range of women's health topics and concerns.
Read More
---
10/02/2023
Just in time for Breast Cancer Awareness Month in October, the Board of Visitors 2023 Care Card is now available for purchase online, with 100% of proceeds benefitting The Big Pink Bus, Banner MD Anderson's new mobile 3D mammography unit. With plans to get rolling in January 2024, The Big Pink Bus will bring life-saving breast cancer screenings to women across the Valley, especially those in underserved and outlying communities.
Read More
---