Foundation News
Check here for announcements, news, and information from Banner Health Foundation.
02/01/2021
Steven J. Hilton has been elected Chairman of the Board for the Banner Health Foundation. He will serve a two-year term on the 25-member board for the Foundation, which serves as the philanthropic arm of nonprofit Banner Health in Arizona.
Read More
---
02/01/2021
Banner – University Medical Center Phoenix and Banner MD Anderson Cancer Center have joined forces to launch a Cardio-Oncology initiative to address the prevalence of fatal heart disease in cancer survivors.
Read More
---
01/11/2021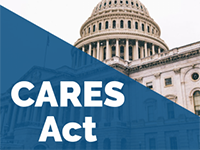 There are two key provisions of the CARES Act have been extended into the new year (and, in one case, increased), offering tax incentives for charitable giving in 2021.
Read More
---
01/11/2021
The first shipments of Pfizer-BioNTech's COVID-19 vaccine have arrived in Arizona and on Dec. 17, Banner Health began vaccinating health care workers in Maricopa and Pima counties. Banner is following national protocols advising that frontline health care workers receive the first vaccinations against COVID-19.
Read More
---
01/04/2021
As COVID-19 cases surge in Arizona, Banner Health continues to meet health care needs by expanding telehealth options utilizing technology that supports safe and effective delivery of care for both the patient and provider. CVS Health recently awarded a grant to the Banner Health Foundation to support the Banner Telehealth program and its rapid deployment in hospital rooms outfitted for COVID-19 patients.
Read More
---