Foundation News
Check here for announcements, news, and information from Banner Health Foundation.
03/31/2023
Patients who feel grateful for the care they received in a Banner Health medical center show their gratitude through the Banner Health Hero program. With a donation of any size to the Banner Health Foundation, patients can honor any Banner employee who went above and beyond.
Read More
---
03/08/2023
Banner Health Foundation gratefully acknowledges CopperPoint Insurance Companies for its investment in youth behavioral health programs at Banner Behavioral Health Hospital. Their support benefits the Metro Phoenix area's uninsured pediatric population.
Read More
---
02/21/2023
High quality, accessible, affordable health care is a vital component of a thriving community. However, today's health care workforce—both in the United States and across the globe—is facing an array of challenges while health care systems are under increasing pressure.
Read More
---
02/20/2023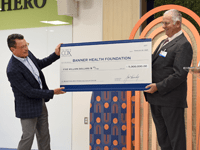 A $5 million donation from the James M. Cox Foundation will enable Banner Children's to create a dedicated Blood and Cancer Center at Banner Desert Medical Center in Mesa, providing a one-stop, streamlined pediatric cancer care in the East Valley, home to more than 325,000 children under age 18.
Read More
---
02/20/2023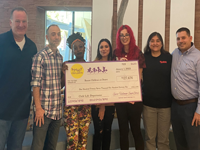 Once again, Banner Children's at Desert and Diamond Children's Medical Center in Tucson are grateful recipients of Spirit of Halloween's annual campaign, Spirit of Children.
Read More
---