Foundation News
Check here for announcements, news, and information from Banner Health Foundation.
01/11/2021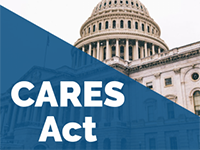 There are two key provisions of the CARES Act have been extended into the new year (and, in one case, increased), offering tax incentives for charitable giving in 2021.
Read More
---
01/11/2021
The first shipments of Pfizer-BioNTech's COVID-19 vaccine have arrived in Arizona and on Dec. 17, Banner Health began vaccinating health care workers in Maricopa and Pima counties. Banner is following national protocols advising that frontline health care workers receive the first vaccinations against COVID-19.
Read More
---
01/04/2021
As COVID-19 cases surge in Arizona, Banner Health continues to meet health care needs by expanding telehealth options utilizing technology that supports safe and effective delivery of care for both the patient and provider. CVS Health recently awarded a grant to the Banner Health Foundation to support the Banner Telehealth program and its rapid deployment in hospital rooms outfitted for COVID-19 patients.
Read More
---
01/04/2021
Expressing gratitude is healing, both for the giver and for the recipient. We invite you to share your gratitude in 2021 through our Banner Health Hero program.
Read More
---
12/09/2020
Walgreens has partnered with the Banner Health Foundation to collect donations of a variety of products in high demand by hospital workers on the frontlines of the COVID-19 pandemic.
Read More
---