Foundation News
Check here for announcements, news, and information from Banner Health Foundation.
12/01/2020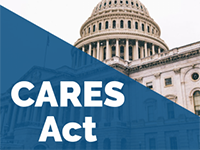 The CARES (Coronavirus Aid, Relief, and Economic Security) Act was signed into law in April and it allows taxpayers to take a larger deduction for charitable gifts than would normally be available.
Read More
---
11/23/2020
New research out of Banner Sun Health Research Institute (BSHRI) shows for the first time a simple skin test can accurately identify Parkinson's disease. This is a real breakthrough since there is currently no reliable test for the disease.
Read More
---
11/23/2020
The Banner Alzheimer's Institute is pleased to welcome Robert Alexander, MD, as chief scientific officer for the Alzheimer's Prevention Initiative (API). Through charitable support, the Banner Alzheimer's Foundation will fund the first two years of this position.
Read More
---
11/23/2020
Banner Alzheimer's Institute (BAI) researchers recently identified how a rare gene protected a woman from developing Alzheimer's disease even though she was at high risk. In the study published this year, a woman who carried a gene mutation known to cause early-onset Alzheimer's around the age of 40 did not develop signs of the disease until her 70s. The findings suggest there may be a new way to treat or prevent the disease.
Read More
---
08/04/2020
Banner Alzheimer's Institute was thrilled to welcome Allan Anderson, MD, in November 2019 as the director of BAI's new comprehensive care center in Tucson.
Read More
---